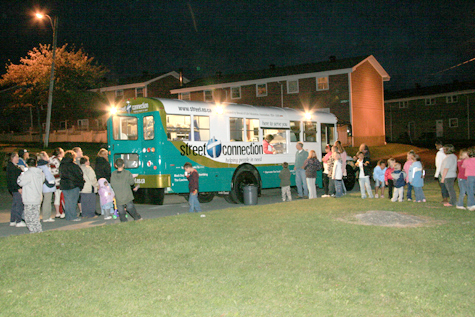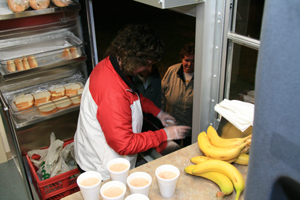 The Street Connection is a mobile soup kitchen that operates in four low income areas of the Halifax Regional Municipality of Nova Scotia, Canada. The bus operates a regular schedule the first three weeks of the month making stops at the corner of McIntosh St. and the 500 Block of Herring Cove Rd. on Mondays at 7 p.m., McAlpine Ave., Bayers Road on Tuesdays at 7 p.m. , Mulgrave Park on Wednesdays at 7 p.m., and Greystone Drive in Spryfield on Thursdays at 7 p.m. We also deliver bread to Demetreous Lane in Dartmouth each month. Volunteers on the bus distribute free food and bread to an average of three hundred men, women, and children each week. The majority of those coming to the bus are young children. The Street Connection does not operate during the months of January and July.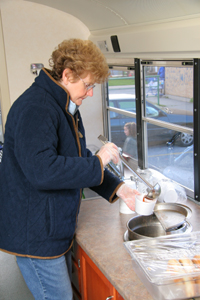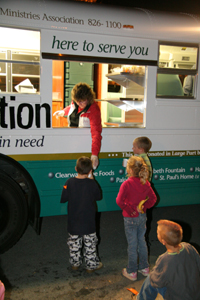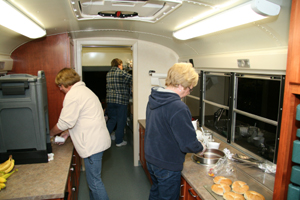 Each week people line up at the side of the bus where we distribute food from the kitchen area of the bus. The food includes sandwiches, bagels, bananas, yogurt, hot homemade vegetable soup and apple juice. We also distribute 1 litre containers of frozen homemade soup for people to take home.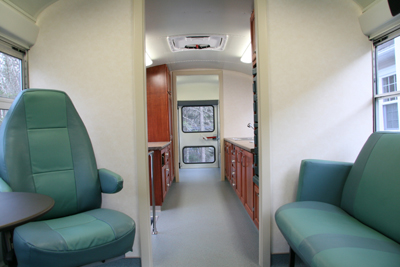 People line up at the back of the bus to receive free loaves of fresh bread.