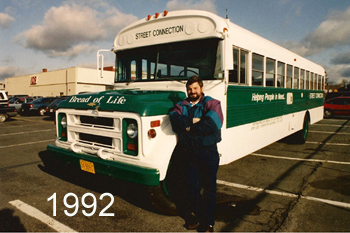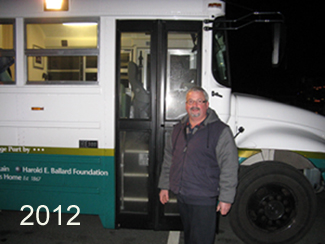 Rob Pattison
Chairman and Founder of Bread of Life Ministries
I was born and raised in Halifax, Nova Scotia, Canada. In 1980, at the age of twenty, I joined the Royal Canadian Mounted Police and on the same weekend that I graduated from training I was married to my wife Sandra who was also born and raised in Halifax. Sandra and I spent almost five years in Southern Alberta, Canada before I left the police force to return home to Nova Scotia.
In the summer of 1991, while working in the computer business, I began to sense a strong call of God on my life. I began volunteering at a soup kitchen in Halifax that fall. In the following summer of 1992, a local church donated a school bus, which, with the help of many local businesses and individuals, we renovated into a mobile soup kitchen called the "Street Connection". That fall I realized that I could not run the soup bus and work at my computer job. After praying about it my wife and I decided to launch out in faith and operate the soup bus full time. That was the beginning of "Bread of Life Ministries".
A lot has happened since God called me into full time ministry in the summer of 1991. I have witnessed time and time again, God's faithful and timely provision to this ministry and my family.
In the summer of 1993 we started a portable Sunday School for the dozens of children who were coming to the bus each week for food. The program, which we later called "The Zoo", was put on for up to 300 kids each week using a cube van and a bus. For more information on "The Zoo" program you can take a look at the Children's Ministry section on our web site.
After almost four years of operating the "Street Connection" mobile soup kitchen along with "The Zoo" program, we came to a point where we realized that due mainly to a lack of volunteers, we could no longer maintain both programs and do them both well. It was a very difficult decision, but in the spring of 1997 we decided to stop "The Zoo" program and concentrate our efforts on the "Street Connection".
During the four years that we operated "The Zoo" program, we wrote and developed a lot of children's ministry curriculum material. We decided to place all of that material on our web site along with material written and donated to us by Sheryl Coats of the U.S.. All of this material is free to anyone interested in using it. From emails we have received, we know that this material is being used by people all over the world to minister to children.
When you consider that we do not receive government support and the ministry has done very little fund raising, it is nothing short of miraculous to see how God has provided for this ministry since it began in the fall of 1992. Our support comes mainly from individuals, businesses, service organizations, foundations and churches.
We have two children that are both married. Our son Daniel, his wife Laura and our grand daughters Kathryn and Megan live near us as well as our daughter Emily, her husband Glen and our grandchildren Andrew, David and Grace. My wife Sandra, who I have been married to for thirty-seven years, is actively involved with me full time in the ministry. We also have many volunteers involved in various ways who play a vital role in keeping this ministry going from week to week.
In the spring of 2006 we came to another crossroad in the life of this ministry. I had been driving motor coach part time since 2002 in order to supplement our income. The extra money was helpful and I enjoyed the change, but we began to realize that the ministry required my full attention in order to be at its maximum effectiveness in reaching out to help others. The Street Connection bus was also in need of replacement along with much of our food handling equipment.
In April 2006 we launched a campaign to purchase and renovate a new Street Connection bus. I gave up my part time job at that time and recommitted my full attention to the operation of this ministry, trusting that God would provide the funds we needed. In September 2006, with the sufficient funds raised, we purchased a 2006 International School bus and began renovations. We also upgraded much of our equipment, improved our menu and added extra locations to our regular stops. It is as if God had breathed new life into this ministry and had given us a fresh enthusiasm to continue His work of helping those in need in our community.
WHO DO YOU THINK THAT I AM?