Week Twenty-Five - Mar. 4 - Mar. 10
Kitchen Cabinets
While the kitchen cabinets are being constructed, we are also having a number of items custom built by various local businesses. These items include railings, food storage racks and kitchen countertop. We also found seats for the front clothing section of the bus that are being re-upholstered. Fred is also continuing to work on the electrical system hooking up the batteries and power inverter and installing various switches.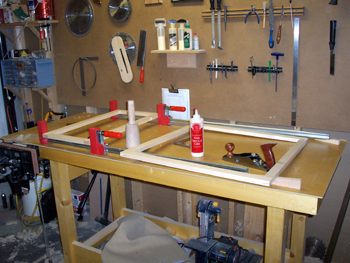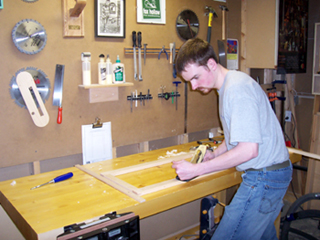 The face frames for the cabinets are glued and biscuit joined together. Daniel then hand planes them to make sure all the joints are smooth.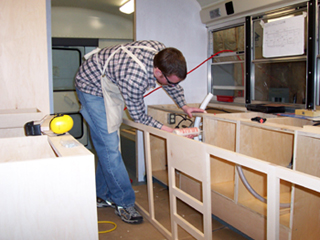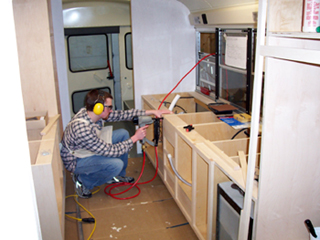 Once the face frames are assembled, they are glued to the face of the cabinet carcass and then finish nailed into place with an air nailer.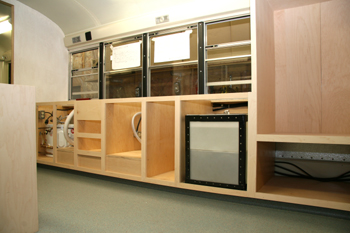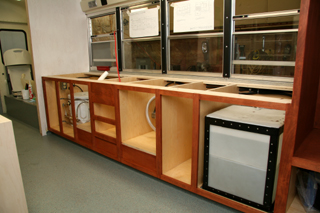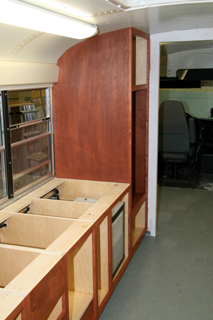 A coat of stain has been placed on the cabinets on one side of the bus. The kitchen is starting to take shape.
The stain for the cabinets was donated by "Mill Supply" in Dartmouth.